Just so that this does not get lost in the noise (as suggested by @LouisLotter )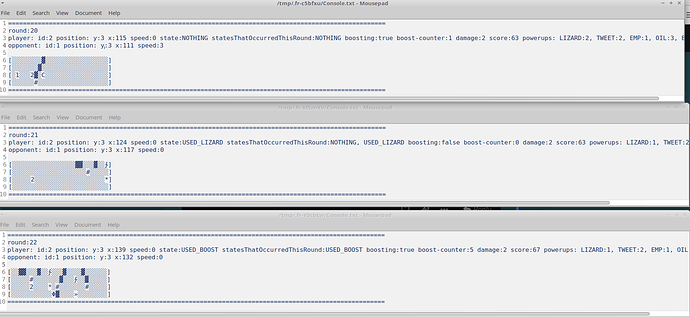 To add to the weird speed /damage / other related issues, I found this perplexing situation ( I suspect it is basically the same problem mentioned by
@rfnel
in the phase 3 balancing thread.)
Basically, P2's speed is reported as 0 in Round 20.
It then uses lizard…and somehow then moves forward.
Speed is still zero though when we get to Round 21
THEN it uses boost…and seems to actually get that movement.
And yet, speed is still apparently zero.
Have our vehicles perhaps discovered FTL, thereby circumventing known physics, and are so able to move without moving? If so, pretty exciting stuff!
The CSV output maybe illustrates the situation a bit more clearly (sorry for the paste, not allowed to upload CSV it seems):
| 14 | 2 | 3 | 85 | 3 | TURNING_LEFT | false | 0 | 5 | 2 | 2 | 0 | 3 | 15 | 1 | 1 | 47 |
| --- | --- | --- | --- | --- | --- | --- | --- | --- | --- | --- | --- | --- | --- | --- | --- | --- |
| 15 | 2 | 3 | 100 | 0 | HIT_WALL | false | 0 | 6 | 2 | 2 | 0 | 3 | 15 | 1 | 1 | 39 |
| 16 | 2 | 3 | 115 | 0 | USED_BOOST | true | 5 | 6 | 2 | 3 | 2 | 3 | 15 | 2 | 1 | 63 |
| 17 | 2 | 3 | 115 | 0 | FIXED_CAR | true | 4 | 4 | 2 | 3 | 2 | 3 | 15 | 2 | 1 | 63 |
| 18 | 2 | 3 | 115 | 0 | FIXED_CAR | true | 3 | 2 | 2 | 3 | 2 | 3 | 15 | 2 | 1 | 63 |
| 19 | 2 | 3 | 115 | 0 | NOTHING | true | 2 | 2 | 2 | 3 | 2 | 3 | 15 | 2 | 1 | 63 |
| 20 | 2 | 3 | 115 | 0 | NOTHING | true | 1 | 2 | 2 | 3 | 2 | 3 | 15 | 2 | 1 | 63 |
| 21 | 2 | 3 | 124 | 0 | USED_LIZARD | false | 0 | 2 | 2 | 3 | 1 | 3 | 15 | 2 | 1 | 63 |
| 22 | 2 | 3 | 139 | 0 | USED_BOOST | true | 5 | 2 | 1 | 3 | 1 | 3 | 15 | 2 | 1 | 67 |