Refer to: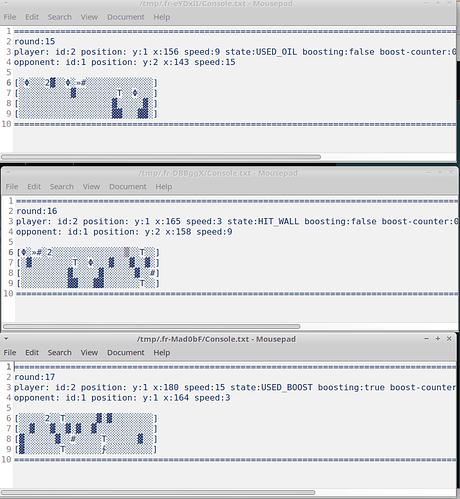 I am trying to understand what is happening here.
Hoping somebody can point out what I'm misunderstanding (or point out the engine code that is causing this).
So, in Round 15 P1 is tweeting (USE_TWEET 1 165).
P2 is using oil.
In Round 16, we now have P2 and the cyber truck launched by P1 sitting at y =1, x =165 (can't see it obviously, but trust me, it's there).
P1 is TURNING_LEFT, P2 is choosing BOOST.
What I would expect for Round 17 is that P2 hits the cyber truck, P1 then has a Player collision with P2, and everybody is basically sitting at x=164 (block behind where the truck was).
However, as seen by the image above, P2 seems to be completely unaffected by the truck, while P1 seems to have hit it. I have been staring at the engine code for far to long now - just can't see how I'm getting this end result in Round 17?